[center][b]
CRYPTONAIRE WEEKLY MAGAZINE 178TH EDITION IS OUT NOW
The #1 CRYPTO TRADING MAGAZINE
WEEKLY TOP TRADES, TOP PROJECTS AND MARKET UPDATES
[/b]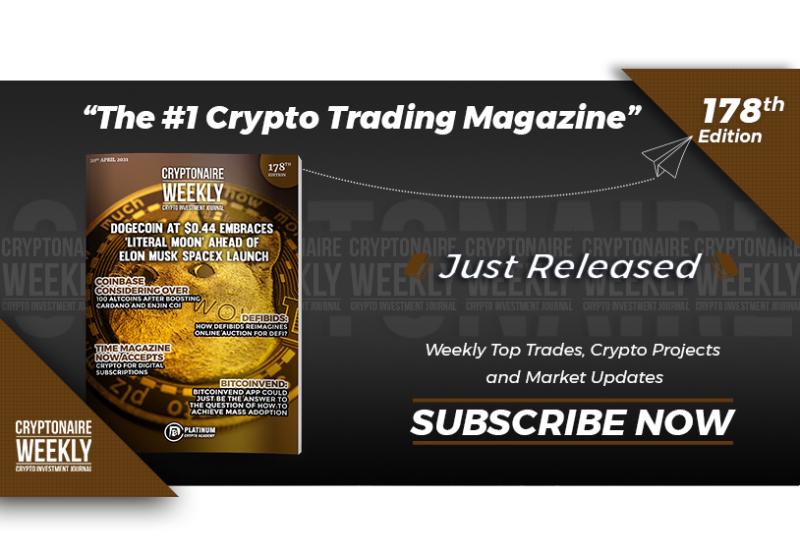 [/center]
Crypto exchange Coinbase had a stellar listing on April 14 as briefly it was valued at $112 billion, finding a place among the top 100 valuable companies in the United States. Right from its debut, celebrity fund manager Cathie Wood's ARK funds have been on a buying spree, purchasing $246 million worth of Coinbase stock on Wednesday, $110 million worth of the stock on Thursday, and $64 million worth of the stock on Friday.
The successful listing of Coinbase propelled Bitcoin and several cryptocurrencies higher but the star performer was Dogecoin, which rose to become the fifth largest cryptocurrency in terms of market capitalisation. Dogecoin's $50 billion market cap makes it more valuable than several well-known US companies such as Ross stores, Walgreens Boots Alliance, and Las Vegas Sands.
OUR BLOG ARTICLES FOR THIS SPECIAL ISSUE ARE IS DEFI THE FUTURE OF FINANCE- STATERA A NEW TYPE OF DIGITAL ASSET, BITCOINVEND THE NEXT STEP FOR BITCOIN & CRYPTO ADOPTION, HOW DEFIBIDS REIMAGINES ONLINE AUCTION FOR DEFI? & A COMPREHENSIVE GUIDE TO THE QOINIQ CRYPTOCURRENCY TRADING PLATFORM
Bitcoin behaved the way we had projected in the previous analysis. Traders who had bought on the breakout and trailed their stops higher according to our suggestion could have exited at a small profit.The biggest cryptocurrency broke out of the overhead resistance at £44,238 and made a new all-time high at £47,240.05 on April 14.
However, the bulls could not sustain the price above £44,238 and the BTC/GBP pair dipped back below this level on April 17. This resulted in sharp selling by short term traders and the price plunged below the 50-day SMA on April 18. Although the bulls purchased the initial dip, they have not been able to continue the recovery. The 50-day SMA, which had been acting as a major support, is now acting as a resistance.
Selling continued on April 19 and the pair commenced its journey toward the next support at £36,777. This is an important support to watch out for because if it cracks, the selling could intensify and the pair may drop to £31,005.
The 20-day EMA has turned down and the RSI has slipped into the negative zone, indicating advantage to the bears. However, if the bulls purchase the drop to £36,777, the pair could remain range-bound for a few days. The break above the 20-day EMA will be the first sign that the selling could be over and the bulls are back in command.
Lastly please check out the advancement's happening in the cryptocurrency world.
[b]Featuring in this weeks Edition:
Junca Global

DeFi Bids

BitcoinVend

Stealth

Statera

QoinIQ

Aubit
[/b]
Read More
CRYPTO TRADE OPPORTUNITIES
Dogecoin at $0.44 embraces 'literal moon' ahead of Elon Musk SpaceX launch
TIME Magazine Now Accepts Crypto for Digital Subscriptions
Bank Of England And HM Treasury Launch CBDC Task Force to Evaluate Opportunities & Risks
China's Central Bank Looking to Regulate Bitcoin as an Investment Vehicle
JUNCACASH CRYPTO AND FINTECH SERVICES TO ENABLE PAYMENT AND EXCHANGES FOR THE PHILIPPINES
CRYPTOCURRENCY TRADING PLATFORM ATANI RAISES $6.25M IN SEED FUNDING
IS DEFI THE FUTURE OF FINANCESTATERA A NEW TYPE OF DIGITAL ASSET
[center]#CryptonaireWeekly #platinumcryptoacademy #Binance #Bitcoin #Ethereum #Ripple #Litecoin
#STATERA #CBerry #CBerrytoken #Ecosystem #DeFiSwap #ATANI #DayTrading #BTC #digitalcurrency
#AuBit #aubitnetwork #fwt #Freewaytoken #QoinIQ #QoinSuit #digitalcurrencymarket #ATANI #DayTrading
#Cryptocurrencyexchanges #digitalexchange[/center]
[b]CW - Issuu Link:
CW - Website Work
https://www.platinumcryptoacademy.com/cryptonaireweekly/edition178/20th-april-2021/[/b]