CRYPTONAIRE WEEKLY MAGAZINE 200TH EDITION IS OUT NOW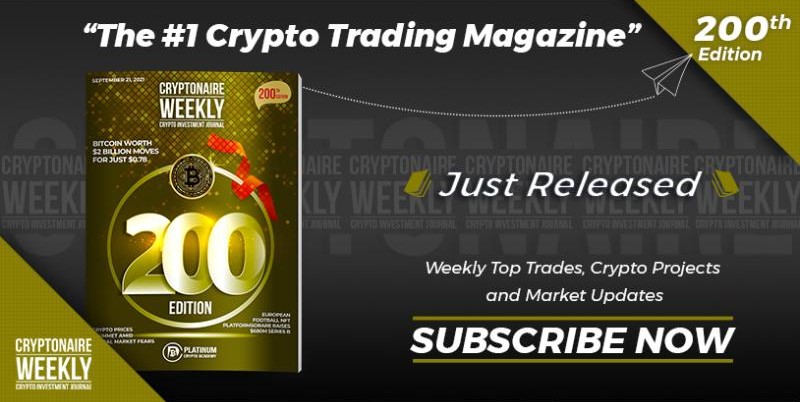 The #1 CRYPTO TRADING MAGAZINE
[/b][/center]
Despite the slight downturn, the institutional adoption of Bitcoin continues to increase. Filings with the United States Securities and Exchange Commission show that four wealth management firms have bought shares in Grayscale's Bitcoin Investment Trust.
A survey of about 42,000 people in 27 countries by product comparison website Finder showed a high adoption rate in Asia. Among the countries polled, Vietnam had the highest adoption rate at 41%, while India and Indonesia had a 30% adoption rate.
OUR BLOG ARTICLES FOR THIS SPECIAL ISSUE NEXT LEVEL ASSET TOKENIZATION: HOW GENIUX TOKEN LEVERAGES BLOCKCHAIN TO ALLOW PRIVATE INVESTORS TO TAP INTO THE REAL ESTATE MARKETS DIRTY FINANCE – A DIRTY DEAL ON HENTAI NFTS FROM CRYPTO PROJECT ALL YOU NEED TO KNOW ABOUT BEATBIND'S BBND TOKENS – THE HOTTEST BET IN THE MUSIC INDUSTRY RIGHT NOW
Traders dumped assets perceived as risky on fears that a default in Chinese developer Evergrande could roil financial markets across the world. Both European and US stock markets witnessed sharp losses on Monday and crypto markets also sold off, though most coins are attempting to start a recovery today.
The moving averages have completed a bearish crossover and the relative strength index (RSI) has dropped into the negative territory, indicating that sellers are in command. The long tail on today's candlestick shows that bulls are attempting to defend the critical support at £31,011.
However, any relief rally to the 20-day exponential moving average (EMA) and the downtrend line is likely to attract selling. If the price turns down from this overhead resistance zone, the bears will try to resume the down move.If the BTC/GBP pair plummets and closes below £31,011, the next stop could be £26,845.
Such a deep fall could delay the start of the next leg of the uptrend.
The first sign of strength will be a break and close above the downtrend line. If that happens, the pair could climb toward £38,000. We will wait for the price to confirm a bottom before recommending any fresh trade in it.
Lastly please check out the advancements happening in the cryptocurrency world.
Enjoy the issue!
Featuring in this weeks Edition:
Aristo

DeGeThal

RMRK

Mining

Genius

MELD

Dirty Finance

Omnia

Bondex

BeatBind
Read More
CRYPTO TRADE OPPORTUNITIES
Bitcoin worth $2 billion moves for just $0.78
Largest NFT Market by Volume Opensea Launches Smartphone Application
Crypto Prices Plummet Amid Global Market Fears
Cryptocurrency Is Picking up Steam in Small Cities in India
THE KANALOA NETWORK – A NEW WAY OF DOING THINGS
CRYPTONAIRE WEEKLY TO PUBLISH ITS 200TH EDITION
NEXT LEVEL ASSET TOKENIZATION: HOW GENIUX TOKEN LEVERAGES BLOCKCHAIN TO ALLOW PRIVATE INVESTORS TO TAP INTO THE REAL ESTATE MARKETS
DIRTY FINANCE – A DIRTY DEAL ON HENTAI NFTS FROM CRYPTO PROJECT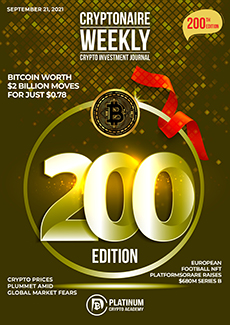 #Bondex #Omnia #Aristo #DeGeThal #RMRK #Mining #MELD #Genius #BeatBind #DirtyFinance #CryptonaireWeekly #platinumcryptoacademy #Binance #Bitcoin #Ethereum #Ripple #Litecoin #Ecosystem #DayTrading #BTC #digitalcurrency #digitalcurrencymarket #DayTrading #Cryptocurrencyexchanges #digitalexchange
CW - Website Work