Real estate investment is a great way to earn passive income and prepare for the future. Many investors have turned their financial status around by investing in real estate. Buying and selling of properties have proven to be a way to partake and benefit from the real estate industry. However, there is another way you can invest in real estate without owning a landed or any other property through B11G.
Betooni 11G (B11G) is a real estate company that is currently raising €1.1 million. The company is leveraging the power of blockchain through Blockhive to raise this fund by opening their doors wide for cryptocurrency investors to invest in the project and earn some commissions for years. According to B11G, "we are materializing the incredible potential of borderless financing made possible by blockchain."
B11G is trying to create awareness for investment opportunities in the real estate industry. Currently, the company offers investors a 14% interest rate annually for individuals who can contribute to its crowdfunding project. It also attracts a maturity date of 2 years after issuance.
The fundraiser is taking the form of ILP otherwise known as "Initial Loan Procurement" which is different from an ICO. It is the tokenization of debt through smart contracts and digital (human readable) contracts. The loan contracts are tradable and also provide the creditor (the individual investor) with a claim against the borrower (the project). This proposition is unique and has never happened before. It is equally time Blockhive is using the ILP on a commercial level.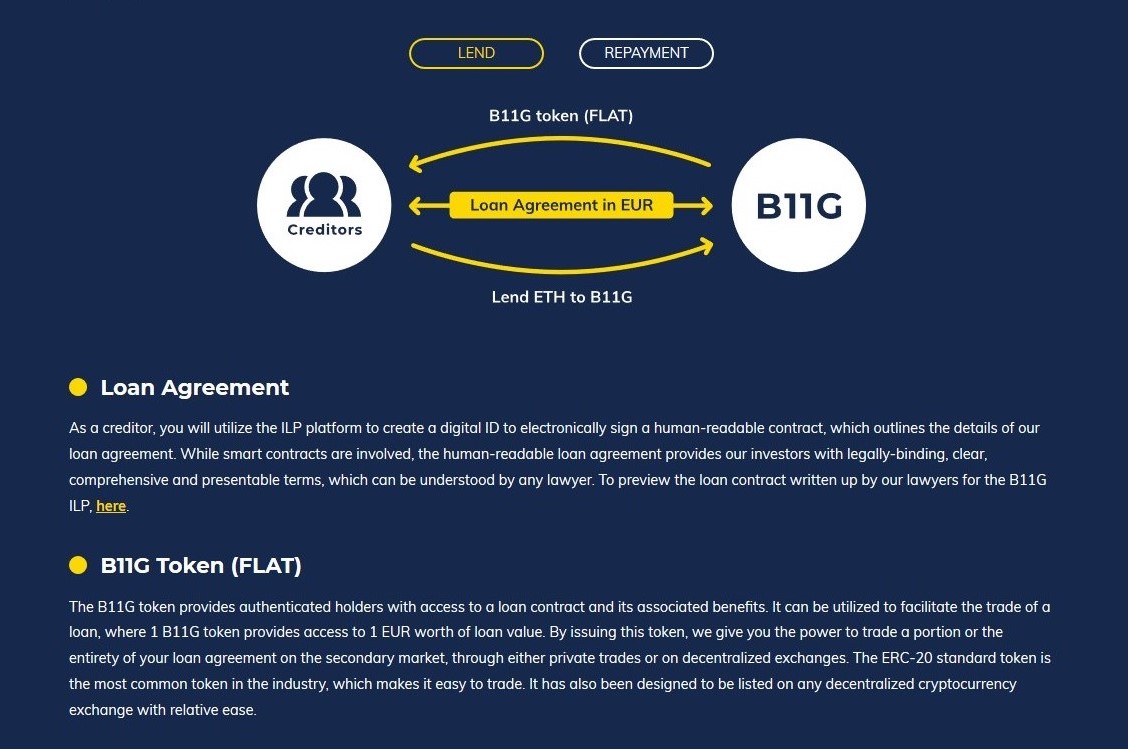 Blockchain powers this project and digital ID verification ensures its possibility. It allows investors from around the globe to sign legally-binding loan agreements that confirm their investment in the project. For instance, if you invest $1,000 in the project, you will earn $140 worth of the digital currency annually.
B11G's real estate service covers a wide range of real estate branches, including office space rental, warehousing, space for production, and showrooms. This allows the company to appeal to clients with different real estate needs to meet their needs, regardless of what the need is. Thus, B11G is in good stead to recoup its investment easily. That, in turn, implies that you won't have issues with getting the right Return on Investment (ROI) as an investor.
Agrello, a digital ID solution provider is one of the partners in Project B11G. Together with New Page, Blockhive, Oblicity and CoinMetro - A one-of-a-kind financial exchange ecosystem that will drive the future of blockchain innovation, on April 2nd, 2019 a pilot real estate crowdfunding project was launched. B11G has set the pace in the application of blockchain to this industry as well. It is an opportunity for the industry to reap the numerous benefits of blockchain.

For instance, blockchain offers second to none transparency. Whatever agreement you enter with any company is recorded on the blockchain network with millions of users on the network aware of the contract because they can see it. More so, the record can't be changed. Thus, if you invest in a project that is powered by blockchain, rest assured that you can trust the project due to the transparency offered by blockchain.
B11G is using a crowdfunding platform created by Blockhive to enable them to raise money for this project. You can invest in these projects from any part of the world and get returns on your investment as outlined by the company in charge of the project.
B11G offers you an opportunity to invest in real estate through a blockchain-based project that offers transparency. Unlike in conventional transactions, you can invest in real estate without having physical contact with the company through which you want to make the investment.

When blockchain meets real estate, the future is bright. You have the opportunity to create a passive source of income, grab the opportunity with both hands.
The Fundraiser started on April 1st, 2019, 10:00:00 (GMT + 2) and closes on April 30th, 2019, 23:59:59 (GMT + 2), so join in now with less than 50 hours to go!
All further information can be found at: https://b11g.eu/
Contact for further discussion: https://t.me/projectb11g